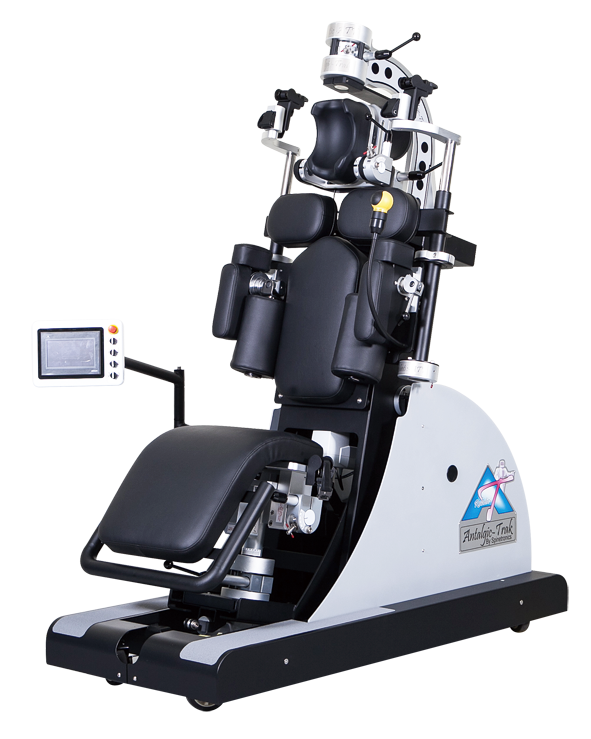 Antalgic-Trak Spinal Decompression
Not all Decompression Chairs are the same!
There are only six Antalgic-Trak Decompression chairs in Canada and we have the only ONE in Western Canada!
The Antalgic-Trak Decompression Chair is the first of its kind and is a computer-aided technology designed by experienced clinicians and robotic engineers. This technology applies decompression to your spine to a precise targeted area.
The greatest quality of the Antalgic-Trak is the multi axis articulation feature. This feature allows your spine to be adjusted and positioned into a variety of postures. This enhances the decompression with precise targeting to the problem area.  We call this the articulating range of motion decompression and it's the first and only system of its kind in the world. This enables the decompression to reach areas in the spine that was once before near impossible. These advanced, computer aided treatments can heal the symptoms of a herniated disc in as little as 6 weeks.
Just a few conditions that can be treated include:
Back pain
Neck pain
Sciatica
Degenerative Arthritis
Bulging discs (neck and back)
Herniation/Disc Protrusion

Location
Full Spectrum Chiropractic
#110, 849 Premier Way
Sherwood Park, AB T8H 0V2
Call today to book your next appointment
780-464-1029
Office Hours
Monday 7:30am – 7:00pm
Tuesday 8:00am – 7:00pm
Wednesday 7:30am – 7:00pm
Thursday 8:00am – 7:00pm
Friday 7:30am – 2:00pm
Saturday  Closed
Sunday  Closed
*Please note that the hours change depending on the provider