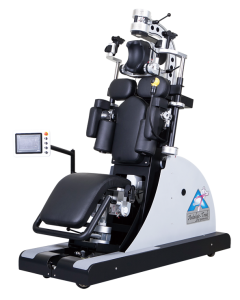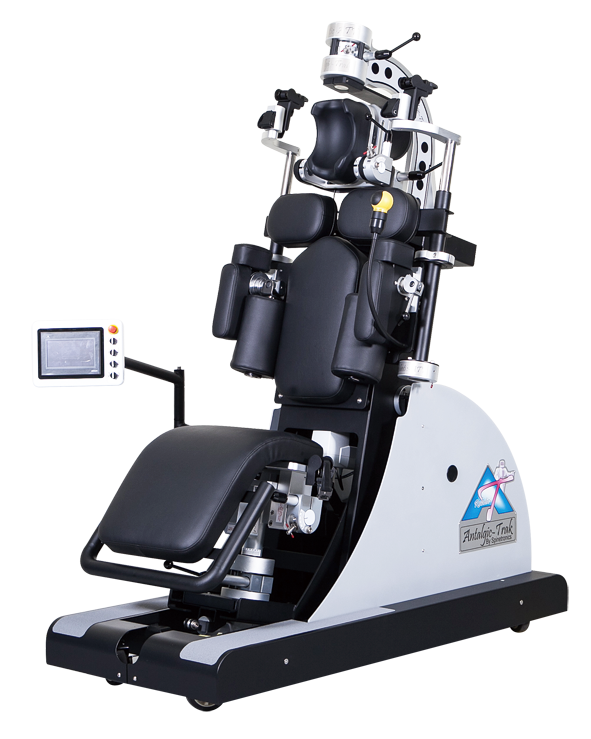 Antalgic-Trak Spinal Decompression
Not all Decompression Chairs are the same!
There are only six Antalgic-Trak Decompression chairs in Canada and we have the only one in Western Canada.
The Antalgic-Trak Decompression Chair is the first of its kind and is a computer-aided technology designed by experienced clinicians and robotic engineers. This technology applies decompression to your spine to a precise targeted area.
The greatest quality of the Antalgic-Trak is the multi axis articulation feature. This feature allows your spine to be adjusted and positioned into a variety of postures. This enhances the decompression with precise targeting to the problem area.  We call this the articulating range of motion decompression and it's the first and only system of its kind in the world. This results in a level of precise targeting of the problem area which is unobtainable with other decompression tables,  enabling the decompression to reach areas in the spine that was once before near impossible. These advanced, computer aided treatments can heal the symptoms of a herniated disc in as little as 6 weeks.
Spinal discs make up approximately one third of your spinal column. Their function is to separate the vertebrae and act as shock absorbers that facilitate spinal motion.
Dysfunctional spinal joints or damaged discs cause the postural muscles around the spine to react by going into spasm, guarding against further injury.  When regular traction is applied to a joint, the body's normal reaction is to pull in the opposite direction. However, the Antalgic-Trak Decompression Chair contains a sensitive computer feedback mechanism to overcome this phenomenon.  Spinal decompression treatment allows for applied distraction forces to create a vacuum effect inside the disc that, over time, helps to increase the disc height, relieving pressure on the nerves and reduce bulging discs.
Just a few conditions that can be treated include:
Sciatica
Degenerative Arthritis/Degenerative Disc Disease
Bulging discs (neck and back)
Disc Protrusion
Herniated Disc
Back pain
Neck pain
Location
Full Spectrum Chiropractic
#110, 849 Premier Way
Sherwood Park, AB T8H 0V2
Call today to book your next appointment
780-464-1029
Office Hours
Monday 7:30am – 6:30pm
Tuesday 9:00am – 6:30pm
Wednesday 7:30am – 6:30pm
Thursday 9:00am – 6:30pm
Friday 7:30am – 12:30pm
Saturday  Closed
Sunday  Closed
*Please note that the hours change depending on the provider