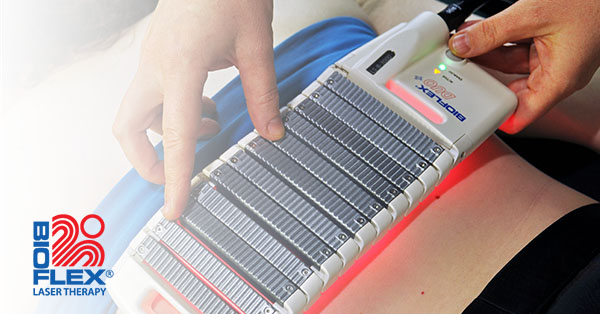 Bioflex is one of the most advanced laser therapy treatments available on the laser market. Bioflex assures that the local area repairs, while accelerating the healing process through surrounding tissues. 
Cells are stimulated resulting in cell replication for replacement, regeneration and repair of abnormal cells. The process results in the elimination of symptoms, including pain and inflammation and accelerates your healing processes. Bioflex laser therapy helps treat the underling condition and root of your pain. There is extensive scientific research that proves that cold laser therapy is extremely beneficial.
The technology is highly effective in the treatment of musculoskeletal conditions, arthritis, sports injuries and muscle tears. 
Dr. Lou utilizes a combination of both red and infrared lasers during treatment and there are 120 lasers with each type, for a total of 240 lasers!
Just a few conditions that can be treated include:
● Ligament, tendon and muscle tears/strains
● Low Back Pain
● Knee, elbow, wrist pain
● Shingles
● Osteoarthritis/Rheumatoid Arthritis
● Degenerative disc disease
● Carpal tunnel syndrome
● Rotator cuff injuries, tennis elbow
● Diabetic ulcers/wound healing
Location
Full Spectrum Chiropractic
#110, 849 Premier Way
Sherwood Park, AB T8H 0V2
Call today to book your next appointment
780-464-1029
Office Hours
Monday 7:30am – 6:30pm
Tuesday 9:00am – 6:30pm
Wednesday 7:30am – 6:30pm
Thursday 9:00am – 6:30pm
Friday 7:30am – 12:30pm
Saturday  Closed
Sunday  Closed
*Please note that the hours change depending on the provider